Private Practice at Underdonk
Private Practice
May 11 – June 17, 2018

Underdonk is pleased to present Private Practice, a group exhibition of work by nineteen artists, each presenting a selection of their studio practice. Comprised of sketches, notes, objects of inspiration, shrines, postcards, and unseen drawings with completed works, this exhibition explores the line between private and public. Giving the artist permission to show what one would often keep hidden or as an idea not fully processed but for further fruition in another work, this show lays bare the unfolding thinking practice in the studio. The artist is a work in progress, perpetually searching, changing, and staying the same. We are gatherers, hoarders, and historians.
Brian Belott / Chris Bertholf / Roger Danilo Carmona / Tryn Collins / Nicholas Cueva / Kerry Downey / Georgia Elrod / Laura Frantz / Ashley Garrett / Tamara Gonzales / Essye Klempner / Osamu Kobayashi / Aleta Lanier / JJ Manford / Danielle Orchard / Elisa Soliven / Sam Strand / Julie Torres / Aaron Zulpo

---
Yesterday Clouds at Underdonk
Yesterday Clouds: Ivana Popov and Derek Weisberg

September 15 - October 15th, 2017




Curated by Aleta Lanier and Marcos Valella




Underdonk

1329 Willoughby Ave

Brooklyn, NY

11237






---
---
Reading of //Protovisions// by Blue Morningsnow and Aleta Lanier
Blue Morningsnow and Aleta Lanier will be reading and showing selections from a collaboration of poem-image PROTOVISIONS, part of a larger project of chance-based divinations created together over the past few years. Blue Morningsnow is a Des Moines, IA-based poet and author of Whale in the Woods, out on Rescue Press. Aleta Lanier is a painter based in Brooklyn, NY and is finishing a July artist residency at Paul Artspace.

Other readers to be announced.

Please join us at Paul Artspace in St. Louis on Saturday, July 30th, at 7pm. The reading will be outdoors, weather permitting - bonfire to follow!

Paul Artspace
14516 Sinks Road
St. Louis, Mo 63034

---
Paul Artspace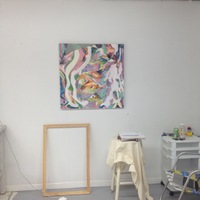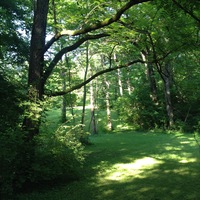 Artist residency at Paul Artspace, St. Louis, MO
---
---
Slow Hello at Underdonk
Slow Hello: Andrew D. Moeller and Sun You
February 19 - March 21 2016
Curated by Aleta Lanier
Underdonk 1329 Willoughby Brooklyn, NY 11237
---
Drill Piece
September 20-21 2013
Center for Performance Research, Brooklyn, NY
Performance of Drill Piece by Motley Dance
Animations by Aleta Lanier
---
Two Poems and Two Images - Jubilat - 2013
Two divinations featured in Jubilat, an international print zine from the University of Massachusetts.
These pairings are part of an ongoing collaboration with poet Blue Morningsnow, based on chance and friendship. Destined to someday become a set of 77 divination cards.